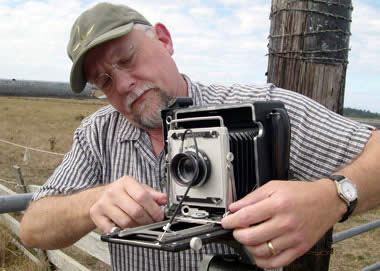 The Eureka Reporter/Wendy Butler
Photographer Matthew Filar says he is especially interested in photographing water. He says a landscape photograph's composition is enhanced by combining water with other natural elements, such as redwood trees.
It's an overcast day, which makes it a perfect one for photographing on The Arcata Bottom.
Matthew Filar carefully removes his 4x5 view camera from the back of his car, along with a tripod. He sets it up in the center of a bridge which overlooks a water-laden field, with its scattered livestock, a barn and a fence. The latter is weathered and vaguely marks a property that has to a certain extent given way to the water.
The Arcata resident is one of approximately 20 Humboldt County artists who will have their work for sale during the seventh annual Arts, Crafts, Food and Wine Festival on Saturday, 11 a.m. to 4 p.m., at Fieldbrook Winery.
The fund-raising event, presented by the Fieldbrook Educational Foundation, will raise money to benefit Fieldbrook Elementary School's educational programs.
Music will be provided by "old-time, new-grass" band Old Dog; violinist and Fieldbrook School music instructor Marilyn Page, classical and folk; and The Club Band, Eastern European folk.
Comedy will be provided by Marc Morita, said Greg Bundros, festival chairman.
"People and community," Bundros said. "When combined, all of these pieces create an event that celebrates the coming of fall and all of the great things we are blessed with and brings together the community in an effort that supports public education."
Filar said he will have cards, refrigerator magnets and unframed, matted photographs for sale at the festival.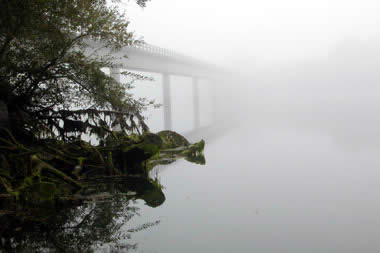 Cock Robin Island Bridge/Matthew Filar
Currently, Filar has digital photographic prints on display in HealthSport, Arcata.
In November, he will have a photographic exhibit in Cochrane & Associates, Eureka.
He also exhibits with the Ferndale Arts Cooperative.
Filar has been photographing since 1975.
He first moved to Humboldt County from Baltimore, Md., in 1977. He became an engineer and some of that work was with the local firm of Winzler & Kelly.
Filar said he has always been enamored of photography, especially black-and-white images, but with a new wife and a new job, he stopped photographing from 1980 to 1996.
"Realistically, I was always afraid to try and do something in art (and) the older you get, the harder it is to change," Filar said.
He said he recalls he had sold one of his cameras to a pawn shop, where it remained for two years, and he bought it back from the shop before he moved back to Humboldt County in 1996 following a Fulton engineering job.
Filar said he usually goes out in the morning to photograph.
He makes standard and digital prints of his work. His material is primarily landscapes.
He chooses varied locations, from Petrolia's coast northwest to Westhaven and south to Rio Dell.
His color works have included indoor scenes, such as the garden statues at Pierson's Building Center, Eureka, to the bathroom in Hirsch Hubcaps, Arcata.
"I don't like shooting people," he said. "It takes a certain kind of person to be able to shoot people. … I get self-conscious. … You have to be able to distance yourself from the subject."
One of the subjects with which he is the most fascinated is water.
"I like what long exposures do to moving water," he said. "(Water) adds something to the composition of just redwood trees."
Black-and-white photography is his favorite and not only because he is colorblind.
"I think it's more pure photography," Filar said. "It is all about forms and shapes and light. … The colors aren't there to confuse your mind. … When I look at color photographs, I think more of calendar pictures. When I look at black-and-white, I think more of art."
As of his choice to adopt photography as his avocation, he said no other medium captures time the way a photograph is able to.
"Moments in time … only exist once," Filar said. "(It is important to) carry a camera with you and not be afraid to stop, because you can't go back and do it again."