Arcata Library Bikes Annual Report
2003-2004
Table of Contents
Who is Arcata Library Bike?

How the Lending Process Works

Arcata Library Bike a Success

Monthly Circulation

Circulation Trends

Promise Bikes

Donated Bikes

Store Participation

What is the HUB?

HUB has Positive Impact on Lending

Volunteers

Educational Outreach

Crescent City Library Bike Program

Kids Corner and After School Bike Repair

Milestones

Transit

Arcata Library Bike Awards
Who is Arcata Library Bike?
The Arcata Library Bike Program promotes the use of bicycles as a safe, efficient and environmentally sound means of transportation. Our volunteer-run program hopes to inspire people to bicycle more often. We enact our mission by providing Arcata residents and visitors with free bikes in convenient locations. We also give bicycles to individuals who, because of economic situations, would not otherwise have access to a bicycle.
How the Lending Process Works
Loaner bikes are available to any adult in Arcata. Bikes are borrowed similar to borrowing a library book.
Adults check out our bikes at our lending stations (see below) for a $20 deposit. The deposit allows the bicyclist to keep the loaner bike for up to six months. If the bike is returned within six months, Arcata Library Bike will refund the user's $20 or he/she can renew the loan for an additional six months.
Arcata Library Bike a Success
Arcata Library Bike had another successful year lending bikes out to the local community. Partners include the City of Arcata, the Del Norte County District Library, North Coast Unified Air Quality Management District, The North Coast Co-op, the Arcata Recycling Center, and the Humboldt Waste Management District.
With this success in mind, it is our aim to continue participation of this program.
Monthly Circulation
Arcata Library Bikes checked out 630 bikes from June '03 to May '04, during its second full year of our program. The program really took off in the first quarter 2004-2005, with 442 bikes checked out from June '04 to Oct. '04. From the start of our project with the North Coast Unified Air Quality Management District, to date we have checked out over 1,465 library bikes in Arcata.
The following chart shows the number of bikes that were checked out during our second year of the program, and compares the circulation to the first year of the program in 2002-2003, and the current year.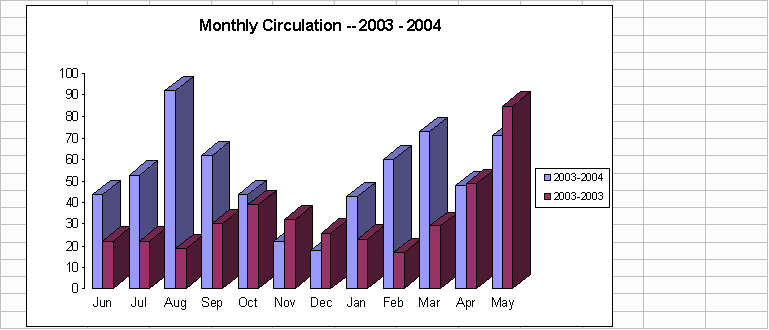 2004-2005

2003-2004

2002-2003

Figure 1: Monthly Circulation

Jun

74

44

22

Jul

109

53

22

Aug

111

92

19

Sep

86

62

30

Oct

62

44

39

Nov




22

32

Dec




18

26

Jan




43

23

Feb




60

17

Mar




73

29

Apr




48

49

May




71

85

TOTAL




630

393
Circulation Trends
Most of the bikes checked out tend to stay out for at least the full six months of planned use. Only about 10% of the bikes are returned within the first month of use. Most of the rest stay loaned out for the full six-month term. We have seen that over half of our bikes will not return, and customers continue their use beyond the six-month lending period. We have about 5-10% that return after more than a year of being checked out.
The lower quality bikes do return more often. About one-third of these customers chose an upgraded bike to continue their bike loan. Less than a month checkouts tend to be about 10% of bike checkouts. Throughout the year, we generally have a base flow of bikes being checked out with spring and fall being higher flow of bike loans. At two times during 2004, we had all our repaired bikes loaned out (late September and late October). This condition had a quick remedy as more social interaction and pressure from desiring riders helped motivate volunteer mechanics to repair the more difficult bikes to fix. An inflow of quality, donated bikes eventually offset the shortage of bikes to repair.
Promise Bikes
Promise Bikes are Library Bikes that we have checked out to riders who promise not to have a car in Arcata. We reciprocate their promise with our guarantee of providing these riders with the very best of the repaired bikes. The chart in Figure 2 shows a high number of people promising not to drive a car in Arcata.
It was discovered early in our program that some of the best quality donated bikes were taking extra effort to repair. The mechanics would go the extra mile to repair these bikes to superior standards if they knew the bikes were going to people who were trying extra hard not to use cars. Thus the concept of Promise Bike started.
Interestingly, from May 2003 – May 2004, 191 promise bikes have been checked out continuously from the HUB. Thus, 191 more people are transporting themselves without the need for auto infrastructure and auto parking. At a one-to-one ratio, 191 less parking spaces were needed in Arcata due to the use of Promise Bikes. At an average construction cost of $2,000 per parking space, the value of these 191 promise bikes is $382,000 savings in parking construction.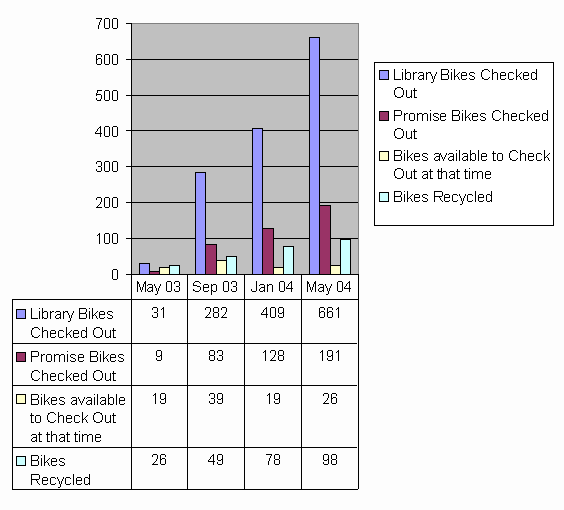 Figure 2: Library Bikes and Promise Bikes
2003-2004 Cumulative Results
Donated Bikes
We maintain a 24-hour drop off box at 40 S G Street. This drop-off location is advertised on our Website and brochure. Arcata Library Bike also accepts donations at the front door of the Hub, conveniently located near the Arcata Plaza.
There are a lot of bikes in the community for donation. Gradual inflow of bikes is good and is usually by donation from individuals. We may ultimately clean out the town of donation bikes, but this ceiling is always expanding, due to new bike purchases ad inflow from other areas.
It has been our experience that one quarter of the donated bikes are in such poor condition they cannot be restored. Some donations are low quality bikes that even when new, would not be durable enough to be used in Library bike service. So ultimately, a third of the donations are reallocated, disassembled or recycled.
We believe we can get mass donations through further outreach. But it is not needed. Every news event results in a flurry of donation. However, mass donation of bikes clogs the shop and results in a huge time demand of shop personnel.
If we ever get low on donations we can get bikes at the Salvation Army or St. Vincent DePaul's. The key to donation is a consistent donation location that is maintained by one volunteer committed to keeping it clean and organized.
Store Participation
We supported store participation (i.e. ability to check out bikes at participating store locations in Arcata) for the first half of the year. But because of the centrally located downtown location of the HUB, we've phased out the store check out locations. This has greatly simplified the management of our program, and helped us better:
Keep track of the deposit money

No longer have to retrain new employees at check out sites

Eliminated the director's time to assess a location's condition

Eliminated actual repairs at remote locations, and

Eliminated the transport of bikes to stations and the need for working locks
The stores helped launch the program, for which we are grateful. They also helped add prominence to the concept of the program, which enabled us to be successful in one primary downtown location. The bicycle is now accepted as status quo transportation largely because of our HUB location.
What is the HUB?
The bike library occupies a hangar-like garage, called the HUB, which was previously a Chevrolet auto dealership. The conversion from auto garage to bicycle workshop and lending station proved simple and inexpensive, as the dealership facilitated vehicles coming and going, and already featured repair bay stations. Better yet, many people in this environmentally sensitive city enjoyed saying goodbye to their old car dealership in favor of a downtown bike center. The prominence of the facility makes folks in town more comfortable using bikes as a mainstream mode of transportation.
Our facility has helped countless individual use their bikes by:
Giving them a location with tools to repair their bike

Providing a station like location to prepare against inclement weather;

Providing a location for bike sports enthusiasts to share ideas and present challenges.

By providing them with a Library Bike.
The benefits of Arcata Library Bike being a part of the community are boundless: healthier people, less congestion, cleaner air, less parking and garage demands, and less gas purchase.
HUB has Positive Impact on Lending
Before the downtown HUB was built, almost all bikes were checked out at stores and repairs were done at a location called the trailer shack. The addition of a downtown HUB has easily tripled the distribution of bikes. We believe the location, in an old Chevy dealership downtown, is the main reason for the increase in checkouts.
Volunteers
Our regular open day is Saturday afternoons. Our program is well used when we have the HUB open. We frequently have five to 10 people using the facility. Unfortunately, the volunteer work force does not keep regular, dependable hours during the week. On Fridays we are open in the afternoons for a kid's program. Parents of local schoolchildren donated their time and some shop mechanics volunteered also. This allowed local school children to participate with the bike shop.
Educational Outreach
Education and attraction of potential Library Bikes users has been accomplished through the media, the Internet and local distribution of our brochure.
In March-April '04, we featured a Bike Repair Training Workshop series that focused on repair for each part of the bike. The six-session series had 10-15 participants in each session. The only advertisement for the course was via posted flyers. We were very surprised that the response was better than expected. (See attached flyer.) As a result of the training, two of the course participants rode Library Bikes from Arcata to Boston, and confidently left, knowing they could do their own repairs out on the road.
Another outreach in the past year has been broader distribution of the Arcata Library Bike sticker. They have been given to locals to give to people in faraway places and this resulted in numerous emails from places such as Toronto, Chicago and Tucson.
Overall the presence of a downtown facility has established the prominence of bicycles for transportation an infrastructure that residents and bike users will continue to enjoy in Arcata. Lately, the average snapshot of town shows one-in-ten trips being done by bicycle. This puts Arcata among the top-ten cities in the USA in percentage bike use.
Figure 3: Library Bike Sticker - Put on Each Bicycle

Crescent City Library Bike Program
In Crescent City we started releasing bikes, with much local welcome, in May 2004. We prepared 25 bikes from the Arcata program, for initial release at the Aleutian Goose festival. At one point, we had all our available bikes checked out during the festival. It took a great deal of effort to get the program off the ground, but we have loaned out about 50 bikes.
We have less than a half-year of data of borrowed bikes at the time of this report, but we feel confidant usage is growing. A challenge is keeping volunteer mechanics. It has taken time to get the local authorities and store owners to accept the program.
We endeavored to announce the Library Bikes concept in Crescent City with media and personal presence, and are gaining supporters. We converted a storage trailer to a bike shop/release center that continues to be used today. We contacted many potential storefronts for a shop location, and to date have two participants helping the program. The board of the Del Norte Library voted to include Library Bikes as an item they will check out from their library. They parked our trailer at their building and are doing the daily release of bicycles from there. The county department of public works engineer is overseeing the program flow and personally is checking and storing excess bicycles. The Del Norte County Engineer, Art Reeve, has been heading up logistics there.
The Rural Human Services Inc. has expressed interest in getting our program involved with their after school program. We have yet to meet with their full board to determine the content of their involvement.
In December 2003, we initiated new insurance coverage for the program with North Coast Unified Air Quality Management District named additionally insured. The city of Arcata and City of Crescent city are additionally insured also.
Kids Corner and After School Bike Repair
In America, teen age youth don't have a strong sense of what to do or where to hang out after school, except, as has been the norm for decades, hanging out around cars. The cars are advertised into kid's brains from all angles, and thus they grow into the car culture. Our bike program being in the central auto dealership pedals home a new thought of what is acceptable in society. Slowly, we have attracted some high school students who eventually become the best mechanics, the most effective promoters of the program, and become young adults who adopt a bike lifestyle mixed in with the rest of their lives.
Children create an environment that calms the car drivers in and around our town. When we first opened the HUB shop, the kid's involvement was centerpiece. We were building a kinetic sculpture for the local school, and the parents and kids would meet there to build. We would load the kids in the car, drive, find parking, unload the kids and accessories, and reverse this to go home, It was easier to ride bikes to the HUB after school with the kids, and a few of us did this for some weekends. All of a sudden we started to see many different families riding in the downtown, on Saturdays and after school. It was as if a new space in the street had been created for families and kids, and every time this happened the traffic seemed to calm for many blocks.
Kids in our program take a lot of time and attention. However, they can clean up after themselves, and learn to fix the bikes they take apart. They also encounter kids here other than their regular schoolmates. They also get to be with their parents with our bike program.
Milestones
Arcata Library Bikes has grown to be the largest Bicycle Recycler and
Reuse program in California. The acceptance of Bicycles as status-quo transportation in Arcata has been in large part due to our program. Statewide we have been received as an important poster program. Heather Fargo, the Mayor of Sacramento, has considered duplicating our program for parts of Sacramento. The Mayor of San Francisco has expressed support for program. We have been invited to apply for a California WARP award, and we were featured in a two-page article in the Sacramento Bee in August 2003.
Transit
Our Library Bikes did over 25,000 transit trips this year instead of internal combustion vehicle trips. As the city council and HCOG consider funding transit, the budget discussion including Library Bikes has started.
Arcata Library Bike Awards
Winter 2004
WRAP 2004 Winner
Arcata Library Bikes earned the distinction of becoming a 2004 WRAP (Waste Reduction Awards Program) winner. The California Integrated Waste Management Board honored our program for its contribution to California's waste reduction efforts. The WRAP winner logo is retrievable online at www.ciwmb.ca.gov/wrap/logo/2004/. The award was given by Chair, CIWMB Rosario Marin.
Summer 2004
Best Organization Waste Reduction Program
Awarded by the Humboldt County Division of Environmental Health, this was given for our waste reduction activities. A small trophy was also given.
Summer 2004
ZOOM
The nationally syndicated PBS children's program, "Zoom" filmed a local segment at Arcata Library Bikes. The program featured a minor who had volunteered fixing bikes at our program for two years.
December 2003
Recognition by Senator Wes Chesbro
The Senator visited and awarded our volunteers and after school kids program participants with recognition certificates. Sixteen program volunteers and 13 children were honored.